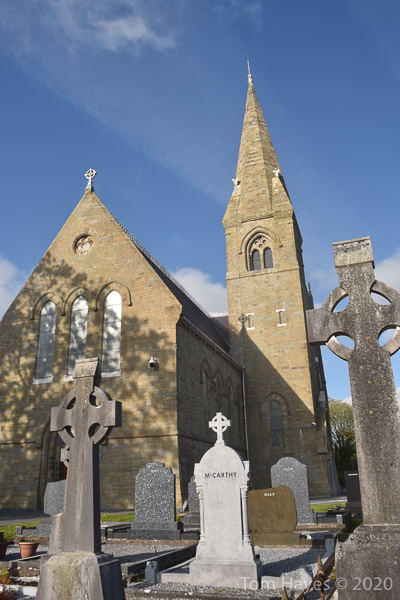 Churches in the Diocese of Cork and Ross will once again be opened for personal prayer from Monday May 18th onwards on a phased basis..
This will include our parish church at Enniskeane. It will be open MOn-Sat from 10.30am to 1pm and from 5pm to 7pm. (On Sundays from 11.30 to 1pm and from 5pm to 7pm).
In a message to the priests of the diocese, Bishop Fintan Gavin has issues guidelines which must be followed before each church can be opened.
"This needs to proceed very carefully so that people can visit churches safely knowing that procedures are in place in line with government advice and HSE guidance," Bishop Fintan wrote.
This forms part of a phased plan towards being able to celebrate the sacraments with a congregation at a later date.
"Parishes are encouraged to initially open at least one church and to reopen the other church(es) on a phased basis depending on local circumstances."
With the exception of Funeral Masses which are celebrated with only ten family members or friends present, the churches of the diocese have remained closed since the end of March.
Priests are to plan the opening of the churches with the help of parishioners.
"Many of our clergy and people who serve in key roles in our churches are restricted in what they can do due to government regulations," Bishop Fintan says. "So it is important to plan this with the help of the Parish Assembly / Pastoral Council / church carers and Parish Finance Committee."
The guidance to parishes and churches outlines minimum requirements which are to be in place before a church can be opened safely. These include attention to cleanliness, physical distancing, hand sanitising, public health information and stewarding.
The Guidance Document issued to parishes is available here.