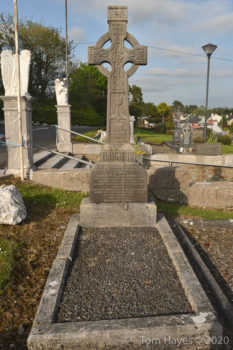 Fr Barrett's mortal remains lay to the west side of the steps that lead up to the church where he served as parish priest from 1903 – 1910.
Diocesan records indicate that Fr. Barrett was born in Dunmanway parish. He was ordained in 1875.
After ordination he was appointed to teach at the diocesan seminary which was then located on top of St. Patrick's Hill in Cork — before the later Farranferris building was developed. He served on the staff from 1876 – 02/1887. At the same time, he served as chaplain to several institutions in Cork.
He served for a year as Chaplain to the City & County Male Gaol and in 1888, he was appointed to St. Patrick's Parish, Lower Glanmire Road, Cork, and served there until October 1903 when he returned to his native West Cork to serve as Parish Priest of Enniskeane.
His term as PP was relatively short because he retired in 1910 but continued to live in the parish until his death in June 1920.
A record of his funeral notes that the "chief mourners were John Barrett (brother) and Mrs Dinneen (sister)".
The Skibbereen Eagle, Sat June 18th, 1920, p3.
The death of the Rev. Richard Barrett, P.P. (retired), Enniskeane, which occurred at St. Mary's, Enniskeane, on Saturday, will be received with feelings of deepest sorrow. Born in the Pariah of Dunmanway 72 years ago, the earliest wish of his heart was to become a priest of God. After the usual preparatory course of classics in Clonnakilty, Bandon and Cork, he entered Maynooth, and in his collegiate career held an honoured and foremost place amongst the giants of his time, who regarded him as a man of first rank ability.
Shortly after his ordination in 1875 the then Bishop of Cork (Dr. De-laney) appointed Father Barrett to the chair of classics in the old St. Finbarr's Seminary. Here he laboured with no ordinary success for several years, and many distinguished students while reading under him covered themselves, their Alma Mater, and their well-loved professor with honours, hard won in the Intermediate and University examinations. The relations between .students and professor were of the most cordial character. Fr. Barrett systematically understood, favourably impressed and strongly attracted them all, and all confidently looked up to him as to a senior brother. As time advanced Fattier Barrett was promoted to the important curacy of St. Patrick's, Cork, where for some dozen years he proved his zeal for souls and his great capacity for priestly work. His colleagues found in him a most amiable co-worker, "the poor had the Gospel preached to them," and literally his left hand knew not of his right hand's deeds.
Some fifteen years ago Fr. Barrett was appointed P.P. of Enniskeane. Owing to his arduous work in the seminary and on the mission Father Barrett's health was somewhat undetermined. Yet he would take no rest. He continued working until the cross of his life came—an unsuccessful operation for cataract, which left him completely blind. Considering that his "'talent" for the care of souls "lodged with him useless" Father Barrett , resigned the pastorate of Enniskeane, and in long suffering, patiently borne, he took up his cross and followed His Master.
All unconsciously to himself, Father Barrett was adorned with the greatest virtues of the Irish priesthood. His knowledge of the Sacred Scripture was profound, his expositions remarkably lucid, and his sound advice in all matters of moment showed his firm grasp of principles. His hospitality was provcrbial, his friends were legion, and "who loved him once loved on to the end." His well-stored mind was to him a great resource in his affliction, but prayer was his chief reliance. In public affairs in the fight for Emancipation, he had an abiding interest, and took an active part. Lenders of public opinion held his advice in high esteem. Between him him and them, (and notably with one outstanding figure), a deathless friendship ensued. Father Barrett adhered to what he believed to be right and just, and by that only —
"A sower of infinite seed was he, a woodsman who hewed towards the light,
Who dared to be traitor to Union when Union was traitor to Right."
In the new movement he was young as the youngest, and full of hope. His last illness came on unexpectedly, and was of short duration. During his illness he was consoled by the particular and unremitting attention of his friends, Rcv, Father O'Regan, C.C., and Dr. Fehilly, whose, care for him was constant and affectionate. Father Barret knew the call had come, and as a faithful soldier of Christ, with Christian fortitude he faced the end. His deathbed was,, like that described by St. Francis de Sales, a deathbed of humility, confidence and charity, when he expired with an humble trust in God's mercy.