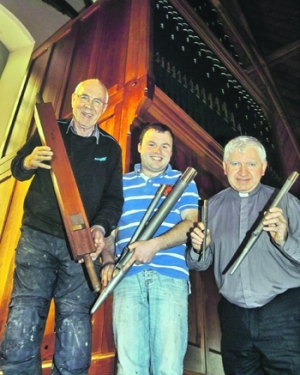 Many, many thanks. We are getting close to the half-way mark! 287 of the pipes of the Pipe Organ for Enniskeane's parish church have been dedicated and sponsored.
The majority of the dedications have come from parishioners. Many have also come from outside the parish and several from abroad. Many of the pipes have been dedicated to loved ones who have died; many are dedicated to the living as well.
The task of installing the organ is proceeding on schedule. We hope to have it playing by August 20th, which is the 134th anniversary of when it was first played in the Convent in Clonakilty as three young Mercy Sisters took their final solemn vows as religious.