In

discussions in recent years about St. Joseph's Church, Castletown Kinneigh, we were unable to say precisely when was it dedicated. Browsing the Fehily Chalice story and local lore in recent years I had surmised that it was sometime in the 1860s or 70s.
I was in the church today when the team from Hickeys Headstones, Ovens, took apart the altar that was constructed in 1991. And to confirm that date, inside the structure we found bundles of a newspaper which was used to hold the plaster of Paris while it dried to bond the bits of marble!
As you can see, it dates from Jan 7, 1991.
I don't think the workmen expected the altar to be taken apart again! Inside the cavity in the altar we also left this:
But, thankfully, they also left something precious.
Leaning against the block work which they built in the centre — and around which they then built the altar with marble slabs –– and down on the ground, I found the original altar stone for the church.
Canon Law stipulates that a permanent altar in a church must have a first class relic of a saint embedded in it. (This continues the link between the Universal Church and the local church building.) These relics were, in the past, almost always brought from Rome for a new altar. The small relic is then embedded and sealed in a stone – or a slab of marble – which was then placed into the altar.
When they disassembled the Castletown Altar in 1991, they put the altar stone into the new altar. A blessing.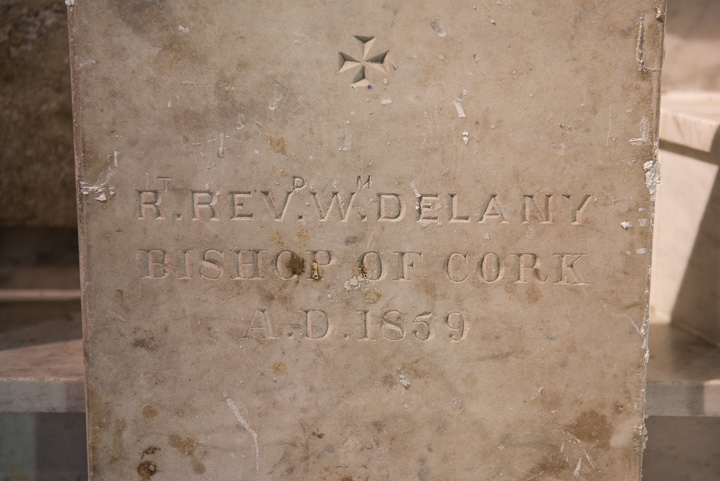 The stone itself is a blessing — but maybe as important is that it confirms when the church was dedicated.
The inscription on it reads:
R(ight) Rev(erend) W(illiam) Delany
Bishop of Cork
A. D. 1859
So there we have it — written in stone!
The church and altar were dedicated 157 years ago. Thanks be to God.
— Fr. Tom Hayes PP
Parochial House, Enniskeane, Co Cork