After the Novena Mass on Monday 9th November, there is a meeting in St. Joseph's Church, Castletown Kinneigh, about works being considered at the church.
This is one of three churches that are part of our parish heritage and ministry — the others being at Ahiohill and at Enniskeane. All three churches date from the 1800s.
The church at Castletown Kinneigh was last upgraded and decorated in 1991. The issues that need to be addressed now include
(a) the church is inaccessible and unsafe for people who use wheelchairs or have mobility difficulties,
(b) the toilet facilities are inadequate, inaccessible and dated,
(c) the boiler room is inside the sacristy and is a hazard,
(d) the fabric and insulation of the entrance porch have failed over time,
(e) it is 25 years since the church was painted, and
(f) some parents need a quiet room where they can be with or take a child who may become upset during Mass — instead of having to take the child outside the church.
Providing comfortable and safe access in and out of the church is the priority and it has been examined several times over the years. In consultation with a local architect, a solution has been found. Plans have also been developed which would address all the other issues. The plans have been professionally costed.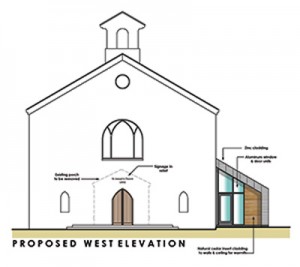 The purpose of Monday's meeting is to provide the information in detail to the congregation, to allow people time to consider the plans in conversation with fellow parishioners, to outline issues and observations for further consideration, and to help the parish priest in conjunction with the Parish Finance Committee and the Church Care Committee to make a decision about the next steps — if any.
The drawings of the plans and other information will be available in the church for viewing from Sunday onwards. They will be in the church on Monday also.