The Bible tells us that its "a holy and wholesome thought" to pray for the dead. It's also an important part of our Christian and Irish tradition that we honour and respect the burial places of people who have died. And this includes the graves of people who no longer have relatives among us.
Recently, the burial place of of one of one of the priests who served the Parish of Desertserges during the Great Hunger has been restored.
Fr. Thomas M. Haynes was ordained to the priesthood at Bayeux, France, and came to this parish from Lower Glanmire – which would correspond to all of the present day Glanmire Parish. Local legend maintains that Fr. Haynes died soon after an exorcism  – expelling an evil spirit from a terrible woman – "Maire  Gaedhlach", who lived locally. In fact, he died at the height of the Famine on 6/6/1847.
The Cork Examiner of June 14th carried the following report:- "On Sunday, 6th inst., of fever caught in the faithful discharge of his arduous ministerial duties, Rev. T. Haynes, P.P., Deserserges, near Bandon, beloved and respected by all who had the pleasure of his aquaintance. He lived the poor man's friend and died the faithful devoted priest of the Altar to which he was so long and worthly attached."
Until recently, his gravestone looked like this:-
The original limestone headstone has been preserved but carefully cleaned and restored by Charles O'Sullivan, Clonakilty. It is 170 years since Fr Haynes died. New kerbs and chips have also been laid.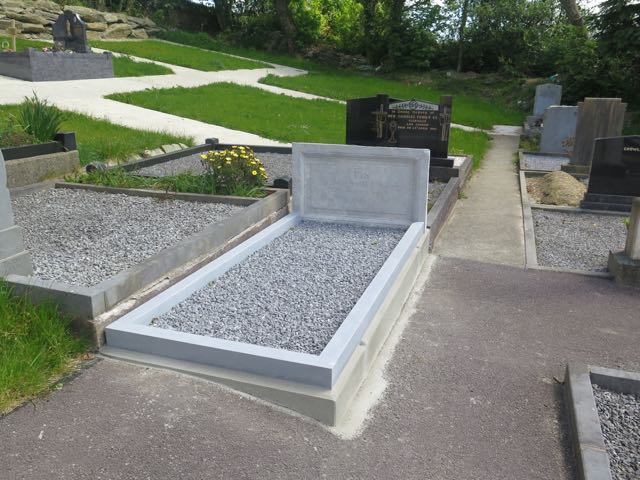 May Fr Haynes and all who have gone before us rest in eternal peace.