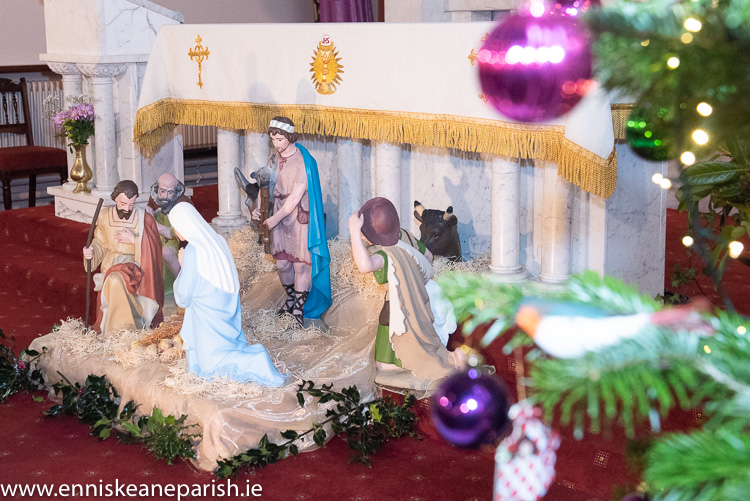 Following today's announcement of new Covid19 restrictions being imposed by the government, the following is the impact for our parish:-
Christmas Eve and Christmas Day:
All Masses will be celebrated with a restricted congregation as planned (all church places have been allocated for the six Masses) Live-streamed Masses will be the 6pm Mass on Christmas Eve and the 12noon Mass on Christmas Day.
Dec 26th, St. Stephen's Day: Mass with a congregation in church is not permitted.
Mass at 11am will be live streamed from Castletown Church.Regrettably, the 6pm Mass at Ahiohill is cancelled.
Sun Dec 27th:
the 8am and 10 am Masses are cancelled. The 12n Mass will be celebrated at Enniskeane Church and will be live-streamed.
Monday Dec 28th, Tues 29th, Wed 30th, Thurs 31st: These Masses will be celebrated privately.
Friday Jan 1st: Mass will be celebrated without a congregation in Enniskeane Church at 11am. It will be live-streamed.
Sat 2nd Jan: Mass in private
Sun 3rd Jan: Mass at 12n in Enniskeane Church: live-streamed.
Mon Jan 4th and Tues 5th: 10am Morning Mass live-streamed
Wed Jan 6th: Feast of Epiphany (Holyday of Obligation) – Evening Mass at 7.30pm live streamed.
Thurs Jan 7th: 10am Morning Mass live streamed.
Our best wishes to you and yours for a blessed and peaceful Christmas.